Audi Naples of Naples Florida earns top Magna Society honors from Audi for top performance in record breaking 2011

Visit Audi of Naples for a great selection of New Audi vehicles, auto service and auto parts in South Florida!
Audi Naples
is dedicated to exceeding customer expectations every day. Our goal is to strive for consistency of excellence and to continue to deliver the best automobiles and services because we want to achieve 100% customer satisfaction.
Visit Audi Naples today and discover why so many Audi owners and customers throughout South Florida, Naples, Fort Myers, Naples Park, Vanderbilt Beach, Immokalee, Golden Gate, Golden Gate Estates, Copeland, Goodland, Everglades City, Marco Island choose us as their Audi Dealership, tire center and auto service center.
Audi Naples provides an impressive inventory of
new cars
, in addition to many quality
pre-owned vehicles
for you to choose from. Many South Florida customers rely on Audi Naples for genuine OEM
auto parts
and quality
auto repairs and service
. Our Naples Audi dealer also offers auto finance solutions for our new car and used car buyers. You may choose to submit a
finance application
online quickly and conveniently online. Take advantage of our
current specials
offered on new cars, used cars, parts, accessories and auto financing for customers throughout the Naples Florida community.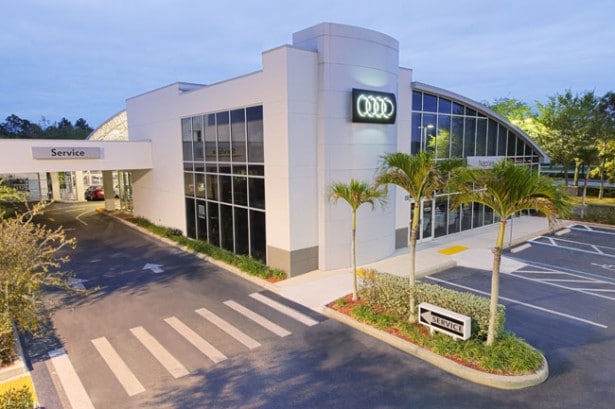 As a 2011 Magna Society award winner, Audi Naples has been recognized as one of the 106 top Audi dealerships in the United States and a leader in a year that saw the premium car brand achieve record nationwide sales of 117,561 vehicles. The Magna Society acknowledges Audi dealers that deliver exceptional customer service, maintain strong sales and demonstrate excellence in all areas of business. This honor is bestowed upon dealerships that exemplify the attention to detail and progressive attributes that distinguish the Audi brand.

"Premium performance car buyers expect the Audi brand experience to match their high expectations elsewhere," said Johan de Nysschen, President, Audi of America. "With the Magna Society award, we celebrate the success of our best dealers to exceed those expectations and delight these discriminating customers."

Every manufacturer has its defining moments. For Audi, one such moment came in March 1980 at the Geneva Motor Show. The automaker unveiled the Audi quattro, an all-wheel-drive sport coupe. Previously, this drive concept had been seen only in trucks and off-road vehicles; the quattro was the first high-performance vehicle with all-wheel drive and it met with a wildly enthusiastic response on the show floor. The quattro's all-wheel-drive system went on to help Audi win accolades in motorsports and it was eventually integrated into the entire model range.
The quattro coupe no longer exists, but its name lives on; "quattro" is the moniker given to Audi's all-wheel-drive system. Audi's early experience as a trailblazer with all-wheel drive was a sign of things to come, one that foreshadowed the company's commitment to being on the cutting edge of technology. Additionally, Audi is one of only a handful of manufacturers to make vehicles that utilize aluminum space frame technology. Aluminum-made vehicles are significantly lighter than their steel-bodied counterparts. This weight advantage can help improve handling, acceleration and fuel consumption, as well as noise, vibration and harshness. And the automaker is one of only a few to offer vehicles equipped with continually variable transmissions (CVTs).
Those who have sat in a modern Audi are not likely to forget it. The manufacturer has distinguished itself with its superbly crafted interiors, and an Audi cabin is a symphony of luxury and ergonomic design. Materials quality is beyond reproach, even in entry-luxury models like the A3 and A4. Those lucky enough to garner seat time in the top-of-the-line Audi A8 are treated to one of the most stylish cabins in existence, a plush cocoon of the finest wood and leather.
It's true that Audi typically trails its German peers when it comes to name recognition and prestige. But in many cases, its vehicles offer levels of luxury and performance that meet and even exceed that of brands that are more widely coveted. Best of all, this outstanding quality doesn't demand a premium price, and Audis typically have a lower price than those of the luxury cars from the company's chief competitors.