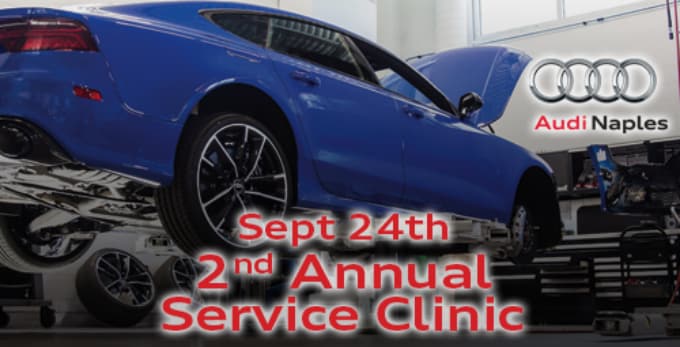 I would like to invite you to an exciting and exclusive event. Please join all of us here at Audi Naples for our first Interactive Service Clinic. The day will be full of fun, prizes, information. You'll have an opportunity to get to better know your Audi, as well as the Service Team that will continue to maintain it.   
We all know how exhilarating driving an Audi can be, and we want to show you exactly what it takes to keep that feeling alive and well. Once an RSVP is confirmed, you will be contacted with available appointment times for this exclusive one day event. You will be assigned a service consultant as well as a certified technician for your interactive service clinic.  
Your participation in this clinic will give you the chance to see behind the scenes at Audi Naples. You will receive a detailed history of your vehicle and have the opportunity for a one on one test drive with your certified technician.  Once returning to the dealership you will be part of the detailed inspection performed during service visits. Your technician will show you the inner workings of your car or SUV from top to bottom. All in the comfort of our state of the art, air conditioned service center. 
I encourage you to schedule your appointment as soon as possible. To ensure a personal and informative event, participation must be limited.  
Thank you, 
Chris Calhoun - Service Manager
Audi Naples